2016 Sportsman's Fall Raffle Magazine
2016 Sportsman's Fall Raffle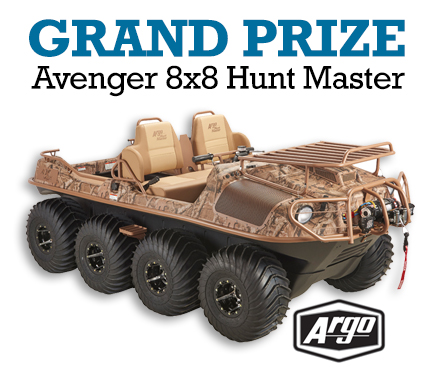 Offer valid in the United States only.
Delta Waterfowl's 2016 Sportsman's Fall Raffle is your chance to win big — from an ARGO Huntmaster 8x8, customized with a Mossy Oak Break-up Infinity Camo to some of the market's best guns, decoys and hunting gear — all while raising much-needed funds for The Duck Hunters Organization™. Tickets can be ordered online or by calling 1-888-987-3695.
Tickets sold through December 2, 2016.
Offer valid in the United States only. Void where prohibited by law. Drawing will be held December 9, 2016 at 12:00 pm CST. Purchase of this ticket is not considered a charitable donation. Winner is responsible for delivery, sales tax, licence fee and documentation fee. Winner is also responsible for Federal and State income taxes. Please contact your tax adviser for proper reporting.