Support Waterfowl Hunting Programs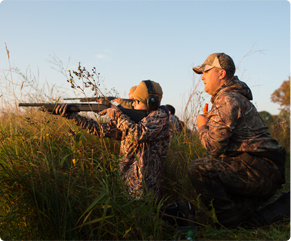 Support Delta's Waterfowl Hunting Programs!
Delta Waterfowl is The Duck Hunters Organization™. Our mission includes an important priority: Defending the tradition of duck hunting for you with unrivaled passion and effectiveness.
But we need your help. If you believe that duck hunting is worth protecting, please support these important Delta Waterfowl programs:
Hunter Advocacy
No matter the issue — be it a jeopardized public-hunting area, Sunday hunting ban or excessive regulation — Delta is the waterfowler's champion. By working with our regional directors, volunteers and members like you, Delta protects hunting on the local, state/provincial and even national levels.
First Hunt Events
Delta also recognizes the need for a new generation of duck hunters to inherit, conserve and enjoy the waterfowl resource. That's why we created First Hunt: North America's largest waterfowl-specific hunter recruitment program. In 2014 alone, we introduced more than 10,000 hunters of all ages to the joys of waterfowling.
How You Can Help: Make a tax-deductible contribution today.
Thank you for your ongoing support of ducks, duck hunters and Delta Waterfowl — The Duck Hunters Organization!